How to order?
To place your order:
1.Add the desired item and quantity to your cart
2.Click on the shopping cart icon.
3. Review your order and click Continue Order.
4.Log in or Register.
5. Confirm your shipping details and payment method, click Continue Checkout.
To see our tutorial go to the page how to order?
What to expect ?
All the kaftans on our store are made to order, not only the kaftans with custom measurements but also the standard sizes, both need time for tailoring. Your takchita will be ready within 3 to 4 weeks. To find out more, visit the page How is it going at Kenza?
The available payment methods
Pay By Credit Card / Debit Card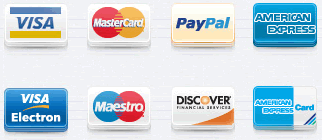 Payment by wiretransfer.

The delivery
After the production time of 3 to 4 weeks, express home delivery takes 4 to 5 days with UPS.
DHL express shipping is available and it takes between 1 and up to 3 days depending on the destination.

For more detailed information about the destinations, go to the DELIVERY AND RETURNS page

Once your package has been dispatched, we will contact you to provide you with tracking information.
How do I take my measurements?
What is your return policy ?
We pride ourselves on our commitment to quality and customer satisfaction. We are delighted to work with you to design a high quality bespoke takchita or caftan that will exceed your expectations. If your dress does not meet everything you expected at any point in the process, including after your dress has been delivered, we offer a refund less 15% deposit. More information about the return conditions can be seen on the page: delivery and returns
Why tailor-made?
We do not work with standard sizes, instead we use the measurements you submit to create your caftan or takchita.
Our intention is to provide an oriental dress that fits better than a standard size that you would buy in a boutique.
For centuries, the caftan has been made to measure, it is among the characteristics that mark this traditional dress.
Also, store caftans are often not suitable for all women, but KENZA CAFTAN makes it tailor-made for you.
Any size, any proportion, we've done it literally.
Why kenza caftan?
KENZA CAFTAN is an online retailer. Our innovative approach brings you the best in Moroccan dress at affordable prices - with a wide range of designs for you to be dressed to impress anywhere, anytime. Everything is Tailor-made by our expert tailors to ensure a perfect fit, just for you.


We pride ourselves on being socially and environmentally conscious - our made-to-order design means the fabric and other materials used are not wasted.


KENZA works directly with end customers, so we offer high quality dresses for 70% less than stores in Europe. In addition, no factory work, we guarantee you a caftan made from Moroccan craftsmanship. Pay for a nice takchita, not the overhead of a boutique.
Can we change the color ?
Yes absolutely, you just have to specify your request to customer service by sending an email to infos@kenzacaftan.com
Where can we see videos of the dresses?
You can check our INSTAGRAM page
Do you have a store in UK or US ?
We do not have a store in Europe or USA, we offer our service exclusively online at the global level, which allows us to make Moroccan caftans to order and offer you a wide variety of models with a cheaper price of up to 70% in comparison with stores in Europe.


Our workshop is based in Fez, the capital of Moroccan craftsmanship, and we are delighted to meet our clients!
How to track my order ?
To follow the progress of your order:


Step 1 Log in to "My account" Click on "My orders"


Step 2 In "My orders", you will have an overview of all your orders and their status Click on "Details" to find out more


Step 3 When your order is "Shipped", click on "Track" to know the current status of your package Overview of the progress of your package since its shipment


Step 4 Confirm the delivery of your order upon receipt of your package to validate your Bonus Points "Buy & Save"
Custom Fees
Upon delivery of your package, the transport service may contact you to request payment of customs fees.
We are not responsible and we have no relationship with these charges which are applied by the authorities of your country.
Do you have ready made dresses ?
Yes of course, we also have exclusive collections of moroccan traditional kaftans, djellabas for men and women